Working in the Hunsrück region
The perfect work-life balance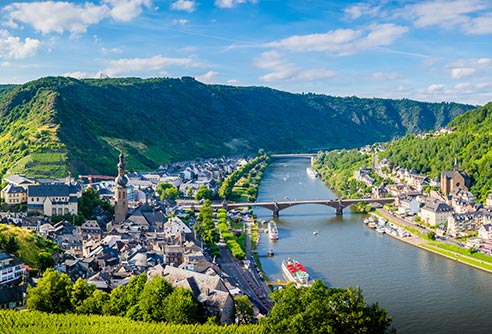 The Head Office of Papier-Mettler has been based in Morbach in the Hunsrück region, with a comfortable approach via the B327, for over 50 years. Situated between Koblenz and Trier, Morbach offers plenty of shopping facilities and leisure opportunities as well as attractive rural surroundings.
The town's child daycare centres and nursery schools provide sufficient places, and it boasts a primary school and an integrated secondary school. But this is not all. Numerous further education institutes such as the Bernkastel-Kues Upper Secondary School and Idar-Oberstein Vocational School are also within easy reach. This means that there is plenty of provision in place for young people wishing to pursue either a technical or commercial career pathway.
There are clubs to cater to a wide range of leisure interests (music, choir, football, tennis, gymnastics, bowling), an open-air swimming pool and a whole host of winter sport opportunities. The highest point in the Hunsrück, the Erbeskopf, is located only 15 kilometres away and is a popular venue for skiing and tobogganing. The area also offers various mountain bike routes, a high-rope adventure park, a dry toboggan run and hiking trails. The multi award-winning Saar-Hunsrück-Steig trail leads directly past Morbach.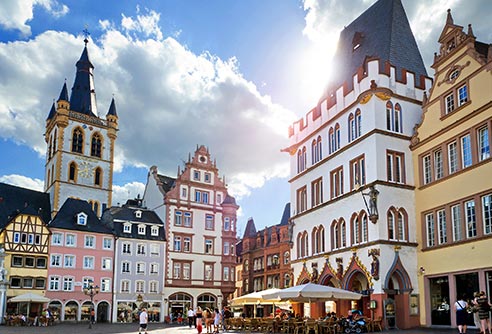 Trier, Germany's oldest city – known as "Roma secunda" (the second Rome) – is only just under 50 kilometres away. Trier's most famous landmark is the Porta Nigra, the best-preserved Roman city gate North of the Alps. Other sights include a Roman palace basilica, an amphitheatre and the Imperial Baths. Evidence of a Roman presence is still also very much in place in the form of a bridge across the Mosel with parts dating back to the 2nd century AD. Trier has a population of about 114,000 and is both a bishop's see and a university city (just under 22,000 students). It is also well known for its highly attractive central area, which provides a wide range of shopping facilities and restaurants.
The town of Idar-Oberstein, famous for its natural gemstone deposits, and the well-known wine growing centre of Bernkastel-Kues are both accessible within 20 minutes. Frankfurt-Hahn Airport can also be reached in only 20 minutes and is a highly convenient option for international travel.